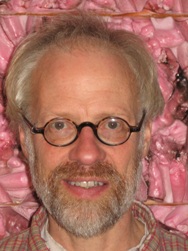 Doctor en Filosofía por la Universidad de Yale, es profesor titular de Filosofía en Lehigh University, EE.UU. Ha escrito numerosos artículos sobre el relativismo epistemológico, la filosofía de Nietzsche, Wittgenstein, Cavell, Derrida y Deleuze así como sobre el trabajo arquitectónico de Arakawa y Gins. Es autor de Waking to Wonder: Wittgenstein's Existential Investigations (1997) y de Life Drawing: An Aesthetics of Existence (en prensa).
Gordon C.F. Bearn dictó un seminario intensivo sobre Wittgenstein los días martes 16, jueves 18, lunes 22 y martes 23 de agosto, de 12 m. a 2 p. m. en la Sala de Grados de la Facultad de Letras y Ciencias Humanas (campus PUCP). El seminario se dictó en inglés. A continuación, la sumilla y bibliografía del Seminario.
Sumilla (en inglés):
During the 1950's Wittgenstein's mature philosophy was posing a serious challenge to the dominance of that tradition of analytical philosophy inspired by Russell and continued by Carnap.  Wittgenstein's appeal to the rich contexts of linguistic life made the thin formalisms of Russell and Carnap seem ridiculous.   It looked like the logicians were going to be forced to separate off as of little relevance to our thick life with words.  And then in 1967, Grice killed the tradition of Wittgenstein and ordinary language philosophy.
This seminar will re-open this period of philosophy from two directions. 
(A) From the side of Wittgenstein, we will suggest that as radical as Wittgenstein's work was, as eager as he was to resist the formalisms of Russell and Carnap, his mature work stopped at the stage of grammatical form, grammatical essences, when it ought to have gone all the way.  There are two aspects of this.  An aspect of taking the sensual experience of words seriously, and here we will move forward by criticizing Wittgenstein's own repression of sensual experience, and we will glance at Bouwsma, and an aspect of taking sensual experience of things seriously (if we look into this aspect we will rely on Bergson's Introduction to Metaphysics.)
(B) From the side of Grice, we will show that Grice's defense of the Russell-Carnap tradition begged the question. Here we will be arguing against Grice by relying on the work of Ziff and Cavell.
If there are time issues we will focus exclusively on (A)
Bibliography
1) Wittgenstein, L. Philosophical Investigations,  especially Part II, (also Part I §§329-336, §§498-508, §§527-535).
2) O.K. Bouwsma, «The Expression theory of Art» in his Philosophical Essays, pp. 21-50.
3) Bergson, «An Introduction to Metaphysics» in The Creative Mind, pp. 159-200.
4) Grice, Studies in the Way of Words, Chapters 1, 2, 3, pp. 1-57. 
5) Ziff, «What is Said» in his Understanding Understanding, pp. 21-38.
6) Cavell, The Claim of Reason, especially,Ch. VIII, pp. 191-231, (also Part Two as a whole, chapters VI, VII, and VIII).
*Los textos estuvieron disponibles una semana antes del Seminario en la fotocopiadora de la Facultad de Derecho campus PUCP*